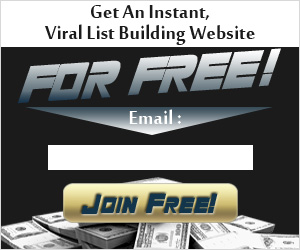 They say article marketing is dead; I say bullshit! Building your email list through article marketing is still an effective strategy. What is dead is the influx of garbage spun articles online that make absolutely no sense. Content is still king and garbage content is still just garbage.
With that being said, If you want to build your list using article marketing, you will have to provide value. The best way to provide your readers value is by actually knowing what you are talking about. Great informational articles get republished, thus creating more clicks and more eyes to your offers.
Building your list using article marketing has to begin by writing quality articles that the search engines deem valuable. The next step is to publish these article to the top 5 article directories such as Ezinearticles, Goarticles, Articlebase, Idea Marketers and  Article City. There is no value in mass submitting your articles to dead end directories; The links are worthless and you will get no visibility.
Article Marketing Using Document Sharing Sites
Document sharing sites are great for submitting your articles. Before you submit your articles you have to transformed them to a pdf file. Some of the top document sharing sites include Docstoc, Scribd, Issuu, Gahzoo and Yudu.  These sites get high circulation, good page ranks and are respected by the search engines.
Article Marketing Using Video Sharing Sites
Video sharing sites are another good alternative for syndication your articles. What you want to do is use an article to video converter to change your articles to videos. You can then submit your videos to the top video sharing sites using Tubemogul or any other video sharing software of your choice. This technique not only generates traffic but is a great source for solid backlinks.
Article Marketing Using Podcast Directories
Podcast directories is yet another technique to get your articles syndicated. Using a service like Odiogo, you can transform your blog post articles into audio files then submit those file to podcast directories. Diversifying your article submissions brings more validation to your backlinks which is also loved by the search engines.
All this work will be in vain if you do not have a good landing page. For all of this to work, you must direct the traffic to a solid landing page by including your website in you author bio. A good strategy for increase click thrus is hyperlinking one link with the keyword you want to rank for and making your second link a pure url. If you can write one article a day and use these techniques, you will have no problem building your list using article marketing .