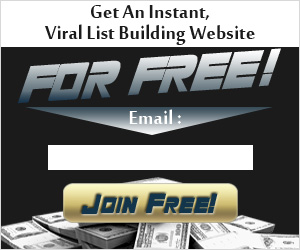 Once you have been in the world of Internet commerce for some time, you are certain to understand the importance of having a good email list to make a significant profit. Top internet marketers have constantly taught their followers the importance of building an email list of targeted subscribers. The truth is that an email list is the backbone of your Internet marketing business. In short, creating residual sales for the long-haul is centered directly around how well you have set up your email list.
There are many aspects of the email list you need to know, which make creating one somewhat of a difficult process for some new online entrepreneurs. Since it can be so difficult, a lot of people try it out, but don't see it through. Well, understand that you DON'T have to give up! Just pay attention and learn from your mistakes, and the mistakes of others. In order to help you be as successful as possible, the following article will take a look at some of the primary list building mistakes that are made so you can avoid these vital slip-ups.
Not Using Permission Base Opt-in Email Lists
Be careful where sources you are using to build your list to make sure you are not getting lists that were gathered without permission. When you use optin lists, you will undoubtedly have a list of people who completely appreciate the information they're receiving and they feel thrilled to be included. On the other hand, if you do things differently you will have people on the list who can't wait to find the 'unsubscribe from this list' button. Of course even with a targeted list there will be some that love your content and others who want to opt out.
You should never make the mistake of maintaining a list without giving your subscriber an option to unsubscribe. "Tapping" potential buyers into subscribing to your content without any clear way out almost always makes things worse for you. These subscribers could accuse you of spamming. An unsubscribe link is an essential part of every e-mail you send out through your marketing lists – you don't want to risk getting put on a spam list and don't want to be cited for not obeying CAN SPAM laws.
Sending Overly Promotional Emails
Sending emails that are consistently off topic or promotional all the time is not good. You want a quality list of subscribers who respect you. Your goal is to get readers, not to just send out mailings blindly only to have them get deleted anyway. Targeted subscribers are the key. You want to have email addresses for people who have interest in possibly doing business with you. You should view your list in terms of potential profit. There is no profit to be made from people who resent your communications.
Maybe you have developed a responsive list by initially offering them a few good reports. But if you make the mistake of not giving them what they want, then they no longer want to hang around! Your list is going to gradually become worthless as your members leave one by one. For example, if you have promised them realistic and practical advise on losing weight with natural, effective results, but all you keep sending them are links to buy your diet pills, they will very quickly become irritated and turn away from you, probably leaving you some nasty feedback.
Not Feeding Your Subscribers What They Want
Eventually you will see one of two results: complaints about the emails or withdrawal from your list. If you have a devoted list of contacts who are hungry for something, make sure you are feeding them what they want! You need to email SEO strategies if that's what they signed up for. And occasionally add a small line or two on the bottom of the emails promoting any offer you want. Be certain that this new offer is pertinent to your topic.
Make sure you have several different list pertaining to different topics. Even if you have list pertaining to online marketing, you can still break the list down to people who purchased seo products, list building products or even social media products. Email provides such as Aweber have several options to help you filter out your list. Filtering of your list will make it easier for you to provide the subscriber exactly what they want.
Remember that well maintained list building retains business; if you give it the weight it deserves, it will reward you in the end. By steering clear of these regular errors, and making good decisions going in the right direction, you are well on your way to success!